50 rounds through Kat's AR.  All loads were made with PMC brass, with Hornady Bulk (from MidwayUSA)  55gr Spire Point on top of 26grs of BLC-2 that was sparked by a Federal Small Rifle Primer.  Shot using iron sights from 100+ yards off sandbags, 6 O'clock hold.
The gun was thoroughly cleaned over the weekend and no fouling shots were fired.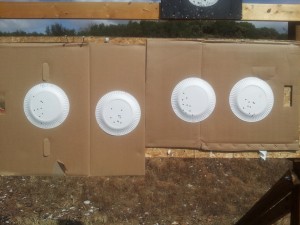 The first four targets.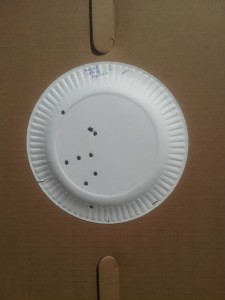 Target #1
Using my calipers I make this target 5.4″ Center to Center (C2C) for the widest two shots, and 4.4″ High x 2.11″ Wide.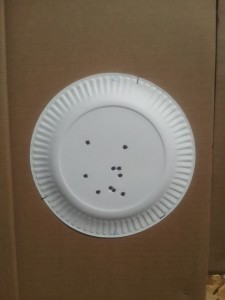 Target #2.  3.32″ C2C and 2.55″ High x 2.22″ Wide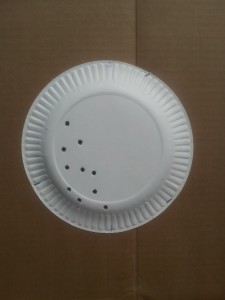 Target #3.  4.65″ C2C and 3.95″ High x 1.52″ Wide.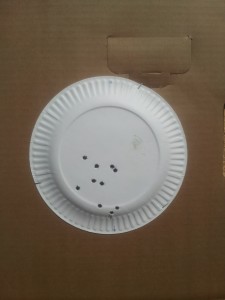 Target #4.  3.42″ C2C and 2.94″ High x 2.15″ Wide.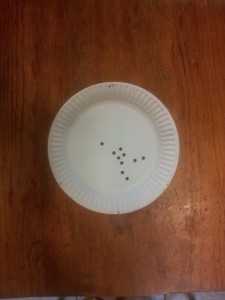 Target #5 (photo taken that evening on our dinner table).  2.38″ C2C and 2.15″ High x 2.78″ Wide.
With the exception of the last target I've noticed that most of my targets (today and other days) seem to have more height then width,  I rather expect that is me and not the gun.  I find it easier to index the front sight left to right on the target then I do up and down.
Oh well, just another reason to keep reloading and shooting.