Oh well.  You know She/He/It will be flaunting "The Most Common Super Power"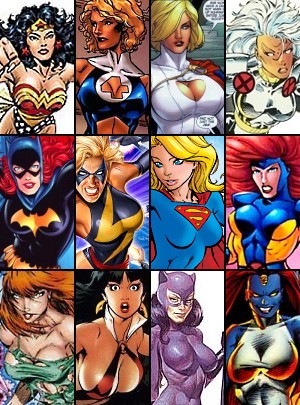 This most common of metahuman attributes seems to range from a D-cup size upward for any character just past the onset of puberty (a time when many comic-book characters start to manifest superpowers). They are not only large, but remarkably self-supporting and perky for their size.
Spinnerette actually pokes a little (a lot) fun at this with the heroine "Super MILF"
Super MILF was originally a flat-chested lab assistant; however, she was engulfed in the explosion of a powerful reactor from Venus, resulting in her breasts expanding, taking the name "Ms. Venus" and becoming a superheroine.
Later on, DC sued her for having a costume that looked like "Power Girl". Instead of changing the costume, she fought for her right to wear it and lost her house in the process. Giving in to her depression, she quit the Superhero business, got married and had kids.
A few years after her kids were old enough, she returned to superhero business as "Super MILF" in the 2010s with a completely new costume.
I don't care who you are.  That's funny.
And yes this is under the Category "Politics" because there is no other reason for Marvel to be doing this.