Some assembly required.  (Of course I'm only using hyperbole to make my case.*)
North Carolina Governor Bev Perdue suggested suspending Congressional elections for two years so that Congress can focus on the economy and forget about those pesky elections.
"I think we ought to suspend, perhaps, elections for Congress for two years and just tell them we won't hold it against them, whatever decisions they make, to just let them help this country recover. I really hope that someone can agree with me on that," Perdue said. "You want people who don't worry about the next election."
*Her office says she was using hyperbole to make her case.  In that case why was she asking for someone to agree with her?
Later Tuesday afternoon, Perdue's office clarified the remarks: "Come on," said spokeswoman Chris Mackey in a statement. "Gov. Perdue was obviously using hyperbole to highlight what we can all agree is a serious problem: Washington politicians who focus on their own election instead of what's best for the people they serve."
This might go a long way to explaining why?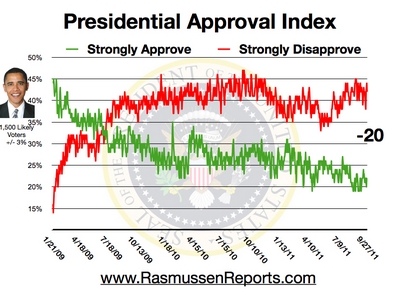 She also just might be a little worried about the coattails that President Zero will bring to the elections in 2012.  In fact other people are as well.
the really ominous news for Democrats: Voters in these districts said they were more supportive of Republicans than they were during the 2010 midterms, when 48 percent said they backed the Republican candidate and 42 percent said they backed the Democrat. (Republicans won 55 percent of the overall vote in these 60 battleground districts, while Democrats took 43 percent.) In 2010, Republicans netted 63 House seats – their best showing since 1948.
There's also this: President Obama's job approval rating in the battleground districts is just 41 percent — and only 43 percent in the 30 more competitive seats that are a little more Democratic.
What this means is right now, based on the data of a respected Democratic pollster, Democrats would — if the election were held today — suffer a wipeout that makes what happened to them in 2010 look like a walk in the park. And things are likely to get worse, not better, as the months roll on.
From their lips (well, keyboard) to God's ear.