Himalayan glaciers Actually gaining.
An inconvenient truth
By Lewis Page
Posted in Energy, 16th April 2012 11:44 GMT
A new study of survey data gleaned from space has shown a vast region of Himalayan glaciers is actually gaining ice steadily, mystifying climate scientists who had thought the planet's "third pole" to be melting.
The study was carried out by comparing two sets of space data, the first gathered by instruments aboard the space shuttle Endeavour in 2000 and the second by the French SPOT5 satellite in 2008. The results were unequivocal. Across the targeted 5,615km2 region of the Karakorum mountains lying on the Chinese border with India and Pakistan, the glaciers had gained substantial amounts of mass by the time the second survey was carried out. Satellite pictures had previously shown the glaciers there spreading to cover more area, but some climate scientists had argued that they might nonetheless be losing ice by becoming thinner: this has now been disproven.
"This is a solid, high-grade measurement," glaciologist Graham Cogley commented, reviewing the paper published in Nature Geoscience. The study was led by Julie Gardelle of Grenoble uni in France.
Well you see "Global Warming" … err "Climate Change"…. causes the glaciers to grow, that is how insidious it is.
While I'm at it I'll also point out that the warming fanatics are trying to push the idea that "Extreme Weather Events" are on the increase
Americans connect dots between global warming and extreme weather
(Yale Project on Climate Change Communication and George Mason University Center for Climate Communication) Most Americans get it: global warming is intensifying heat waves and extreme precipitation to some degree. That's the take away from a new public opinion survey from the Yale Project on Climate Change Communication and George Mason University Center for Climate Change Communication.
The survey, which queried more than 1,000 adults across the country about global warming and extreme weather, discovered roughly two-thirds of Americans believe global warming is linked to several of the extreme weather events of 2011 and the recent mild winter.
That is a load of crap that is pretty easily demolished.
Well by all means, let's "connect the dots", but let's use history and data rather than sloppy questions like this:
What's hilarious about this question is that the memory of such events is aided by the stories in the mainstream media, and what we are seeing is a positive feedback loop. More on that below. 
These are probably the most pointless and loaded questions ever to be put into a poll about weather, why? because short-term memory is better than long-term, and they play into this fact, biasing the results strongly. Plus, it has been shown that bad weather itself affects memory:
Read the article.  Below are a very few highlights.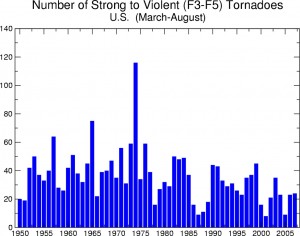 Yes siree Bob them Tornadoes are getting more and more frequent. (Not)
Well how about Hurricanes then?
Figure: Last 4-decades of Global and Northern Hemisphere Accumulated Cyclone Energy: 24 month running sums. Note that the year indicated represents the value of ACE through the previous 24-months for the Northern Hemisphere (bottom line/gray boxes) and the entire global (top line/blue boxes). The area in between represents the Southern Hemisphere total ACE.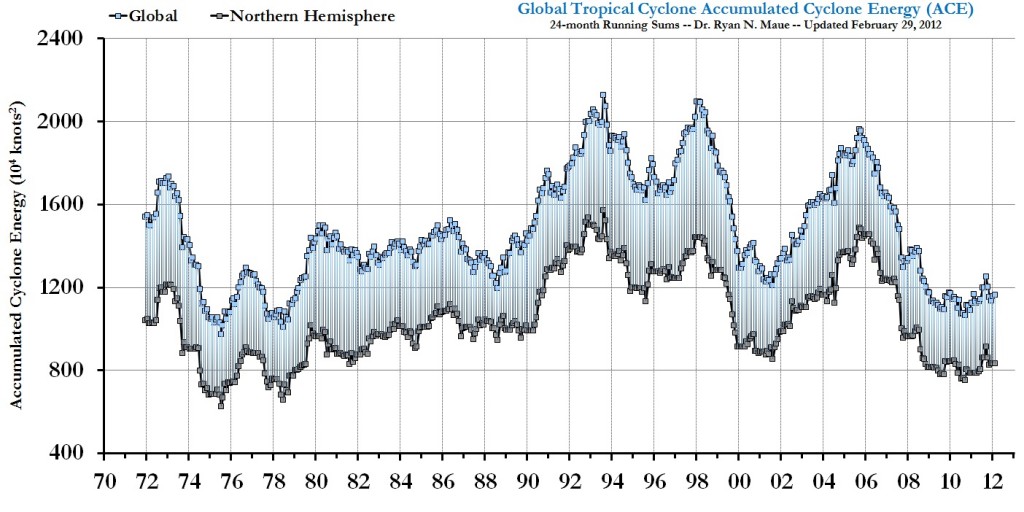 Damn….Well more people are dying… Right?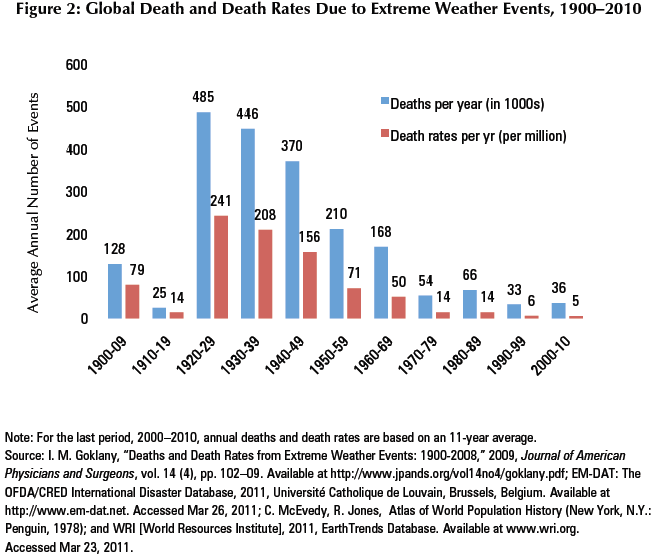 Read the article.