After I got home from work today Karl and I decided to head up the hill for a quick fishing trip.
A few chores around the house, then an exciting 20+ minutes looking for my car keys* and then Karl, Cinnamon and I were headed up to Boards Crossing.
On the way down to the river we passed a mid-sized (200+- lb) black bear that was standing beside the road when we came around a turn.  Cinnamon thought that this was pretty neat and just about clawed Karl to death trying to get out of the car.  The bear took off down the hill and we continued to the river.
Two fishermen were just leaving as we got there, they apparently had done pretty good with Salmon Eggs, so Karl rigged up with those.  Myself?  Well the last time I was up here I had decided to try fly fishing.  Last week I picked up some Muddler Minnows and a few other wet and dry fly's as well as a few other fly fishing incidentals that had gone missing in the 20 or so years since I last fished a fly.
After about 5 minutes of bouncing the MM off the bottom and slowly pulling it in I had my first hit.  A pretty solid hit then I saw the flash of the fish and a couple of seconds later the line went slack.  Scratch one Muddler Minnow.  I tied on another one and moved about 30 yards up river to a little faster run, just below a small rapid.  5 to 10 minutes later I had another hit.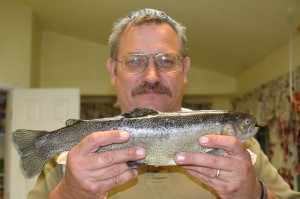 Not bad at 16″ or so.  Not what you would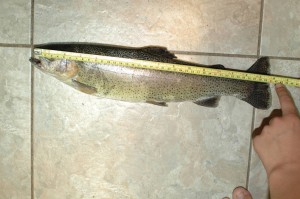 call a BAT (Big Assed Trout) if you caught it in  New Melones Reservoir, but for a river that you could wade across, I would say it qualifies.
After catching this one I called down to Karl, he had worked his way down river, while I went up,  and set him up with the Fly rod, but it was getting to dark and he only had time for a few casts before we had to pack up and head home.  Once home Karl proceeded to cook the trout in butter, with garlic and lemon.
I think everyone was happy. Well, the trout was probably not so happy.
I'm planning on lots more fishing this summer.
*
If you must know, somehow I put them in my creel with Cinnamon's leash and collar.  Then I put the creel in my fishing pack.  Don't ask.