Back on June 9th I posted about two new (to me) cast iron frying pans I had picked up at a yard sale.
The larger pan is still soaking in oven cleaner, however the smaller pan is out.  It has had a couple of sessions in the stove to start the seasoning process and I have started to use it for light cooking.  In fact tonight it made "Eggs in a Basket" for three of us.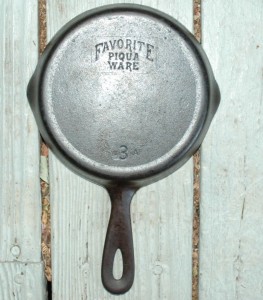 As near as I can find out from a little time on the net, this brand was made between 1916 and 1934.  The factory seems to have shut down around 1957 which means that the youngest this frying pan could be is 55 years old.  A few sites give 1934 or 1937 as the latest that this one could have been made.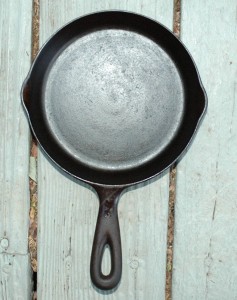 It is a little hard to tell but this antique pan is far, far better finished then either my modern Lodge frying pan or my modern "Wagner 1891″.  It is well worth the time to hunt down a good (check to see that the bottom is flat) antique frying pan rather then a new Lodge or cheap Chinese junk.
If the larger one cleans up this well and takes a good seasoning it will replace my "Wagner 1891″ for home use and the Wagner 1891 will go into the camping box.