Kat is spending the night with friends, Karl was planning to go and "hang out" with some friends, so Monika, Bethanni, Cinnamon and I are taking our Kayak and a rented "Paddle Board" up to Utica reservoir (literately right next door to Union reservoir).
We had a blast, both Monika and Bethanni think that "Paddle Boarding" is right up there with sliced bread and spray deodorant on the list of great things that have been invented.   I thought it was fun.  A little hard on my knee, and I might have had a little easier time had the board been sized for me rather then Monika and Bethanni.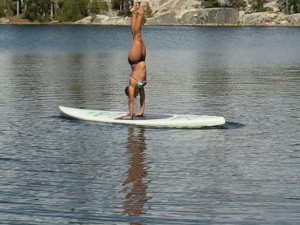 One size does not fit all, but close enough that I could use it.
Bethanni having a little fun on the board.
I'll try it again but mostly I think I'll stick to canoeing or kayaking.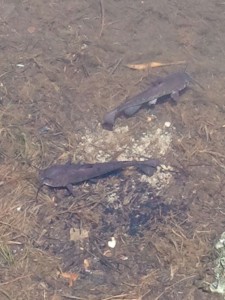 Apparently sometime in the 1940′s someone made an illegal planting, that took, of Brown Bullhead Catfish.  These little buggers were no more then 6-8″ long but were guarding their nest.  On one occasion Cinnamon stepped right in the middle of the fry, scattering them and the pair.  Within minutes I noticed both adults seemly rooting around and "eating" the young.
I told Bethanni that they were probably picking the young up and moving them.  Either that or they took Cinnamon's foot as a sign from God (Dog?) that the end was near and it was everyone for itself.
Sure enough, 10 minutes later we noticed they had moved the fry about 10 – 12′ down the bank.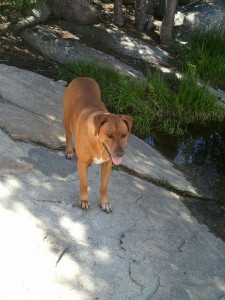 Cinnamon, either before or after the "Act of Dog" bullhead harassment.